What if there was a way to streamline manual processes and boost employee morale by letting them spend more time on the work they enjoy? Through an intelligent document management system, you can automate manual and time-consuming tasks and get back to what's important.

Imagine you just finished writing the last sentence of a critical document that needs to go to the client as soon as possible. You attach the file in an email and send it to five internal contacts from the marketing, sales, and customer service departments. Marketing wants to tweak the language to make it more user-focused, so you make the change and send a fresh copy. Then the sales team provides their input, so you make another copy. Eventually, that document reaches its destination, but you've spent your day moving the file down the pipeline. What went wrong?
Manual processes created a workflow bottleneck.
With a document management system like M-Files, the same issue above is streamlined. Once the document is created, a custom automated business process instantly notifies each internal contact and prompts them to sign off on the document. Once they've given the green light, the document continues down the pipeline, all without the need for manual intervention.

But what is workflow automation?
Common workflow automation use-cases include:
Filing documents with a consistent structure

Approving or reviewing changes to a document

Notifying the right people when a document has been edited

Administrative duties like accounts payable

Document storage and management

Reporting on process management
An automated workflow, achieved through an intelligent document management system like M-Files, nourishes collaboration within your team by streamlining document sharing via built-in communication tools.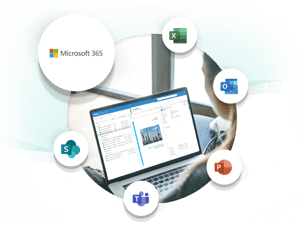 And, from the manager's perspective, you can easily zoom out to the 30,000-foot view to monitor and analyze current business processes or get granular and view each step in detail, all within one platform.
A document management system reduces time spent on irksome manual processes, shatters workflow bottlenecks, and allows your team to focus on what matters most to your business.
At innov8, we work with M-Files to provide clients with the best possible experience when implementing new software. Our team of combined Managed Print and Managed IT services can support you in your journey towards an automated future.
For more information about automating your workflow or your document management system, contact innov8 for a free digital consultation.
Want to learn more about how we can help you operate more efficiently? Read our Digital Transformation blog.
---
Want to learn more about how you can make the most out of your new office equipment? Read our blog: PaperCut Printing Solutions Saves Your Business Money on Printing & Copying.
Contact us at innov8 Digital Solutions for help choosing the right business office equipment that meets your needs.