Maybe you want to improve digital efficiency and asset tracking, or maybe your small business wants to improve its network security. Whatever the reason, there comes a time in the life of a small or medium business when an IT specialist is needed.
While some companies will turn to an internal IT hire, have you considered outsourcing IT needs for your company?
As a managed IT provider, innov8 uses industry-certified best practices to meet your IT requirements without the need for an internal staff member on payroll.
Here's how outsourcing IT can help your business and save you money.
Access a responsive team rather than hiring an individual when
outsourcing IT
It's Friday afternoon, and your network goes down. A week's worth of work is at risk, and the Friday at 5 p.m. deadline is fast approaching.
An external IT team brings more minds and bodies to the table to not only tackle emergencies quickly but plan for the future and protect the network against unexpected outages or issues.
That means you get the resources you need when you need it, and, rather than paying for salary and benefits, you only pay for time on task.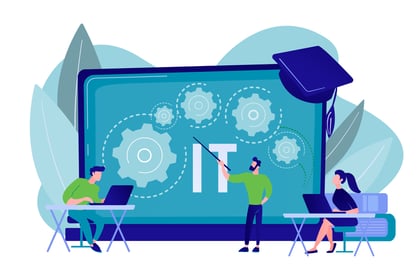 Access to software, specialists and expert recommendations
Software is expensive, and IT professionals who specialize in niche products and projects are even more costly.
Training is available for your in-house IT specialist, but certifications take away from your bottom line. At innov8, our team offers stronger software buying power and a team of certified IT specialists who are at your disposal 24/7.
When outsourcing IT, you don't just get the company you hire. You gain access to their network of specialists when niche jobs arise and their insights regarding what software or services will best suit your needs, saving you time and money in the long run.




Best-in-class tools for your small business
Many small businesses who either don't have an IT support team or have a single internal specialist track hardware and assets in an Excel spreadsheet. While this approach works for small teams, it does not scale well when your business grows.
Outsourcing IT provides access to industry best practices and tools that would otherwise be unavailable to small and medium-sized businesses.
At innov8, we give the same level of care to all of our clients, whether they're a team of 10 or 100. Our Managed IT experts provide a free network assessment to better understand your current IT infrastructure and identify security gaps and business efficiency opportunities.