With technology constantly evolving, finding the right solution to every imaginable situation in today's world can be overwhelming. Figuring out what is worth the investment, especially for your business, can be a daunting task.
Some innovations increase efficiency and integrate different areas of your business, while others can end up collecting dust in the corner.
At innov8, we believe in providing our customers with office equipment and technology that fits their needs and at the right price. All our products and services are backed by a certified, skilled, and experienced support team. Our sales team will work with you and carry out a free assessment of your business office equipment and technology needs.
To break it down, here is a list of essential business and home office equipment and technology solutions to help your business reach its peak performance:
Multifunction Copiers
From multi-level corporate businesses to small-scale office settings, innov8 has the multifunction copier for you. We carry a comprehensive selection of multifunction copiers, including full colour, black and white, laser, eco-friendly, and more.
A key element in office processes, multifunction copiers print, copy, scan, and fax all from one device. Scan and share paper files using integrated solutions and create searchable PFD documents using the built-in network scanner. Go wireless, BYOD, or use the copier's mobile print features.
Printers
Regardless of whether you are starting to go paperless or printing hundreds to thousands of documents every day, a printer is not a resource to skimp on. Connection issues, paper jams, and delayed printing are all common issues that slow your business down and should be avoided at all costs. To increase employee productivity, try out a printer with mobile printing or one that offers speeds of up to 65 pages per minute.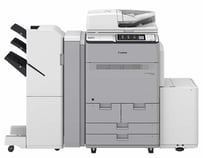 Production Printers – Digital Presses
Canon's cut-sheet digital production printers provide high-quality, duplex sheet-fed printing at ultra-high speed.Canon digital printers deliver reliable, versatile performance that defines production-class printing for transaction printing, graphic arts, and corporate print centres.
When combining Canon printers and Océ printers' technology, you know you can count on proven, scalable cut-sheet production printing systems customized for your business. Built to last, Canon's digital production printers are backed by unparalleled award-winning service.
Whether it is improving productivity, breaking into new markets, or developing new print applications, these digital printers can do anything.
Large Format Printers
Create high-quality, high-volume black-and-white or colour prints. Canon's large format printers provide solutions for all your technical documents, graphic design, poster, and signage needs.
Our broad portfolio of large-format technical printers generates highly accurate black-and-white and colour plots to ensure your drawings, documents, and presentations are accurate, bold, and compelling.
Stretch the limits of your imagination with what you can produce with our state-of-the-art, high-quality graphic art printers, which support a wide variety of media and set new standards for versatility, flexibility, and reliability.
Scanners
As our world transitions to digital platforms, it is crucial to have electronic copies of important documents and contracts. Scanning physical documents to your computer, mobile device, or the cloud will not only escalate convenience and accessibility, but it will give you more options to keep your data secure by encrypting and protecting it with a password. If you are looking for an all-in-one product, browse our multifunction printers and tackle your printing, copying, and scanning needs all in one place.
Managed IT Solutions
Innov8's managed IT services and products give your business an upper hand when it comes to maintaining your office equipment and IT infrastructure without the worry of security breaches.
By having direct access to our knowledgeable IT team, we can help your business work more efficiently with the implementation of secure network and critical software programs, remote monitoring, and management.
Look to us for:
• Software solutions
• Office equipment management
• Customized managed IT plans
• After hours, remote and on-site support
• Complete data recovery and backup
• Cybersecurity, multi-factor authentication, and antivirus protection


Document Management
Transform your office into an efficient, green working machine through document management solutions that cut back on wasted time, paper, and money.
Innov8 helps businesses enter the digital age more efficiently by providing document management and business process automation software that is easy to learn and use.

Through digital transformation, you can search, capture, retrieve, share, and validate valuable information within your documents within seconds.
Learn more by reading our blog: Digital Transformation: Innov8 Can Help Your Business Operate More Efficiently
As an office equipment supplier, repair, and digital solutions company, Innov8 helps businesses with all the tools and know-how they need to operate more efficiently in today's digitized world. Contact us to find out how we can help your office move forward.