Wide-format printers—also known as grand-format or large-format printers/LFPs—are mostly used for printing on material that is at least 18 inches wide. However, they can print on virtually any size. If your business regularly outsources large-format print jobs, you're potentially missing out on a whole host of benefits that come with investing in an in-house wide-format printer.
Some industries have a more substantial need for wide-format printers than others. The most common industries are:
Engineering and Architecture
LFPs are ideal for printing CAD/GIS drawings and 3D renderings.
Interior design and construction: For printing room-design concepts and layouts, site plans, blueprints etc. Interior designers like to be able to truly customize wall art and wallpaper to create a unified look to the space.
Marketing and Advertising
For printing all manner of marketing materials from banners and posters, to vehicle wraps and trade show graphics. All with the flexibility to print quickly, and make campaign adjustments if needed. Banners are, in fact, one of the most popular large-format applications on the market.
Education and Post-Secondary Institutions
For printing complex charts, graphs and maps, and even advertisements for activities on campus.
Manufacturing, Automotive, and Transportation
For printing cartography maps, presentations, facilities maps, aerial photographs, interior and exterior posters for public transit etc.
Health Care and Entertainment
Wide-format printers are perfect for large-scale graphics printing for movie theatres, arts buildings, and in hospitals—particularly children's hospitals.
Purchasing a wide-format printer for your office is not a light decision—they are certainly not cheap! Many questions come with such a significant investment. Here we cover the biggest factors that should be taken into consideration before pulling out your wallet.
When is the right time to invest in a wide-format printer?
There are a vast number of benefits to having a wide-format printer in-house—fast turnaround, high production capacity, and increased security and confidentiality to name a few—especially if your large-format print needs are high. Eventually, there will come a time when the investment will result in lower overall print costs than you would be paying to outsource. Print shops will always charge you a higher cost for your printing needs than you can achieve on your own, so once your print needs reach a certain threshold, the cost savings will eventually pay for the initial cost of the printer plus ongoing maintenance and product costs.
What can a wide-format printer do that a regular office MFP cannot?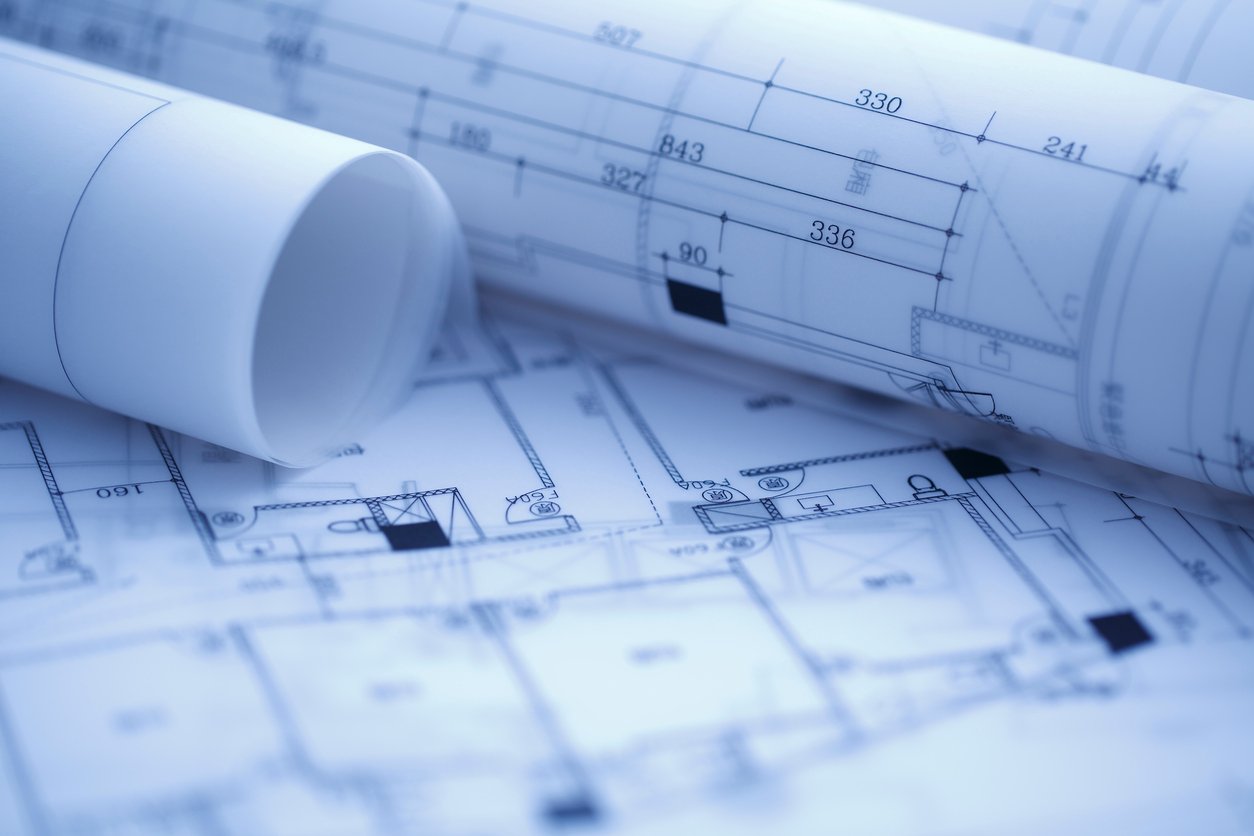 1. Print Size
Wide-format printers can print larger images than ordinary office paper and machines can accommodate. A top-quality office MFP can produce documents, reports, business presentations and necessary marketing materials such as brochures and small posters. However, a standard office printer does not always meet the needs of all businesses. Wide-format printer technology has evolved significantly over the years with the primary goal of providing large, high-quality images for all manner of companies.
2. Print Media
Large-format printers can print on more than just paper or card. Need to print on canvas, wood, tile, or glass? No problem! Large format print applications can be custom designed to accommodate many uneven objects and hard-to-reach surfaces, whether rigid or flexible or for outdoor or indoor use.
3. Print Quality
The print quality of wide-format printers is second to none. LFPs can produce documents and graphics at a much higher resolution than an MFP. The droplet technology of wide-format printers causes the pixels per square inch to become indistinguishable. No matter the size of your printout, you can be confident that the quality of your printout will be extremely impressive.
What to look for in a large-format printer?
Large-format printers are not a one-size-fits-all solution. In order to determine the best printer for your business's needs, you need to review the following:
1. Functionality
What is your main requirement for a wide-format printer? Do you need a printer only or a multifunction wide-format printer that is also able to scan? Is it essential that your printer produces extremely fine lines? Or is best-in-class colour accuracy more critical? Determining the exact need, plus the type of materials you'll be printing onto, will help you narrow down your choices. It will dictate the best kind of ink for your printing needs and, in turn, tell you which printer options are available. It's also crucial that you determine the size requirements since wide-format printers have different size limitations. Also, something that very few people consider is whether you will have to upgrade your overall computer systems to be compatible with a new printer?
2. Colour Options
There are large-format printers designed to print in black and white, and others that print in colour as well as monochrome. Many businesses that are in the market for a large-format printer choose colour for the flexibility of printing. When colour is needed, it can print striking posters and graphics, but also sharp black-and-white documents when colour isn't required. However, if your printing is limited to technical documents and you don't need colour, you'll likely be able to find a printer that has fast print speeds with less long-term consumable costs.
3. Print Speed
As with all printers, the print speed of wide-format printers is measured in PPM (pages per minute), and for LFPs, it is the number of 24" x 36" pages printed per minute. A wide-format printer that can output between 10 and 20 pages per minute is considered fast. However, print speed can vary significantly based on whether you're printing in "draft" mode or a higher-quality mode. Also important to consider is the time it takes the printer to warm up from sleep mode, especially if you print a lot of smaller, on-the-fly jobs.
4. Cost (upfront and long-term)
The initial cost of the printer is only one cost to consider. There will be ongoing maintenance costs, as well as consumable costs such as colour cartridges and toners. These costs are important to take into consideration when reviewing the feasibility of a large-format printer on your budget. Consider purchasing your machine from a vendor that offers service and maintenance packages, and even managed print services, so you don't have to worry about breakdowns or ink shortages slowing down your productivity.
Once you know what your budget, functionality and performance requirements are, you'll be able to start looking at LFPs on the market, having already narrowed down your choices.
Canon wide-format printers
Canon is an industry leader in the production of wide-format printers, and with its ImagePro series, Canon brings the latest print technology straight to your business.
Canon imagePROGRAF PRO 4000
The Canon imagePROGRAF PRO 4000 is a 44-inch printer, designed for exceptional image quality and colour consistency, and high-speed image processing. It is considered to be one of Canon's best large format printers yet and even reformulated the ink set with the Chroma
Optimizer. What is Chroma Optimizer? It is a clear coat when printing on glossy and semi-glossy paper, improving colour performance and gloss characteristics.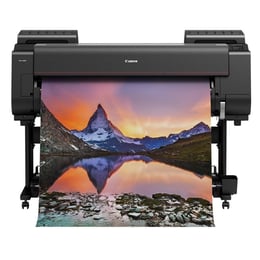 This shows improvements on many paper types over the previous models, plus the colour touch screen is clear and easy to use, making for simple set-up and configuration. Lastly, it has an internal hard disk as standard.
Bear in mind that this printer has a large footprint and is heavier than previous models. That said, it has the capacity for larger ink cartridges, up to 700ml, which is a definite plus point.
Canon imagePROGRAF iPF770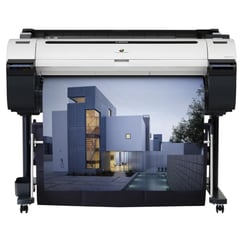 This machine, at 36-inches, is a relatively light, affordable entry-level wide-format printer that is ideal for vivid and impactful posters and signage. The iPF770 has a first-page-out time of around 85 seconds—plenty fast enough for a small business owner. One of the best features of the iPF770 is that, if you run out of ink, it will continue to print (using ink from its sub-tank) and alert you of the need to replace the ink—which can conveniently be performed while still printing.
Canon imagePROGRAF TM-200/TM 300
The TM-200 is a wide-format printer aimed at customers producing CAD, GIS and poster applications.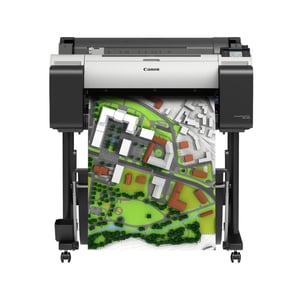 It's able to produce fine lines and sharp text on both inkjet and non-inkjet paper that can withstand many outdoor conditions such as construction sites.
Addressing the needs of customers in the corporate, construction and engineering, retail, education and government sectors that require smaller volumes of high-quality prints, this is a productive, robust, large format printer with a compact footprint that is 60% quieter than previous imagePROGRAF printers.
Canon imagePROGRAF TM-300 MFP L24ei/L36ei
Another series of machines that are well suited to low-volume and entry-level wide-format printer users, the TM-300 MFP L24ei and L36ei, are ideal for low-volume subcontractors, primary education, design offices, architectural firms and reproduction businesses.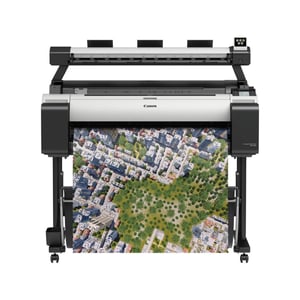 The Canon TM-300 MFP L36ei is designed to give you the ultimate in functionality from one footprint. It's perfect for scanning, copying and printing CAD documents (plans, layouts, templates, technical drawings, maps and colour presentations).
With its pigment inks, it also can print a whole host of different applications such as posters, wall charts, portfolios and even lightweight roller banners.
These 24-inch and 36-inch wide scanners are light enough and compact enough to be set up in space-constrained offices and have user-friendly control panels and intuitive software to make it easy for even novices to scan and print.
Canon imagePROGRAF TX-3000/TX-4000
The 36-inch TX-3000 and 44-inch TX-4000 large-format printers utilize a pigment-only ink set (unlike previous Canon iPF printers which used a combination of pigment and dye inks) which provides incredible black density on solid lines and better bleed resistance in solid fill areas. Paired with the updated print head technology, these printers yield even better colour accuracy than ever before.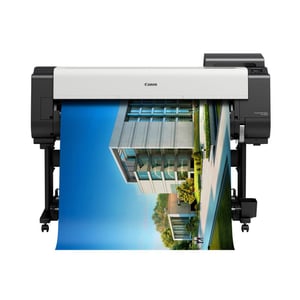 The new ink makes these an ideal print solution for the construction industry as plans won't smudge or run because of spills or rain.
The TX 3000 and TX 4000 models are available as either a printer-only or as a full-blown multi-function printer—the Canon imagePROGRAF TX-3000/TX-4000 MFP T36—including scan-to-copy/file/share integrated solution and all-in-one computer. With increased scan speeds and advanced software capability, this solution has everything needed to copy, scan, archive and share maps, drawings, renderings and posters.
Conclusion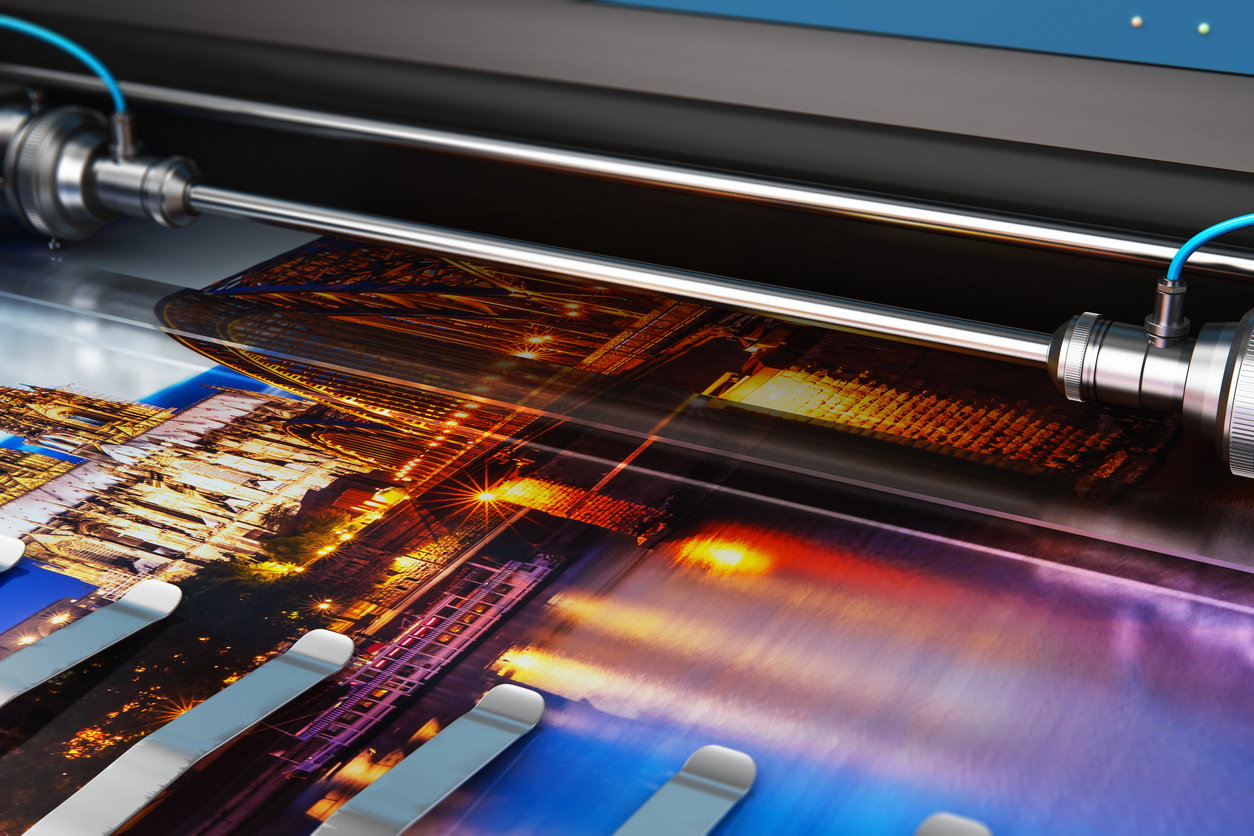 Large-format printing has become one of the foremost print marketing tools, providing a seemingly endless array of print options that can open up a whole world of new opportunities for businesses. Owning a wide-format printer ends the expense, inconvenience and time-delays of outsourcing printing needs. When a company relies upon the quick production of high-quality print products with stunning graphics and engaging imagery, investing in a wide format printer can end up being a game-changer in many busy offices.
Have some additional questions or would like some suggestions on what printer would best suit your business and budget? Give us a call! We're always happy to help you at innov8.