With a wealth of industry experience, an exceptional team of over 70 members, and 9 offices across Alberta and British Columbia; innov8 Digital Solutions received the prestigious "2022 Dealer of the Year" award from Canon Canada at the Dealer's Conference in San Diego. Being recognized as the Largest Canon dealer is a great honor for the company.
innov8 Digital Solutions, which started as an independently owned and operated small-scale start-up in 2013, now has offices in multiple locations across the region, serving hundreds of customers every day. innov8 Digital Solutions has made history and showcased that the company is dedicated to offering customers the best digital services and products. Keep reading to learn more about Canon equipment and the Canon cartridge return program.
Innov8 Digital Solutions | The Hub of Canon Equipment
Want to upgrade your office? innov8 Digital Solutions has the best Canon equipment for you. Here is everything you need to know about our canon products:
1. Canon Copiers and Printers
Canon offers the most reliable multifunction copiers and printers on the market. These devices are powerful and efficient, allowing employees to fax, copy, scan, or print high-quality images at an incredible speed using only one device. Having a Canon copier in your workplace will improve organization, documentation, and communication, allowing you to expand your business.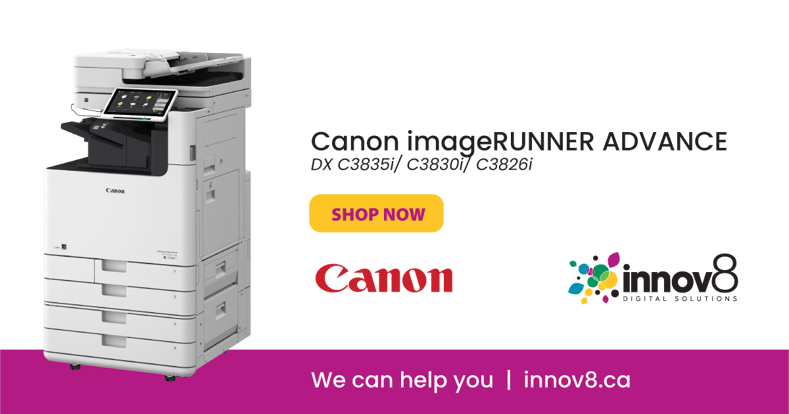 2. Canon Scanners
Gone are the days when you needed to keep a hardcopy backup for every important document. Canon scanners have made computer document management easier and more efficient. All you need to do is place the paper, magazine, or image on the scanner and hit the scan button. The machine will automatically take the scan, creating a digital copy of the document. Canon scanners are designed to minimize paper storage, reducing costs, increase security, and save time looking for paper copies.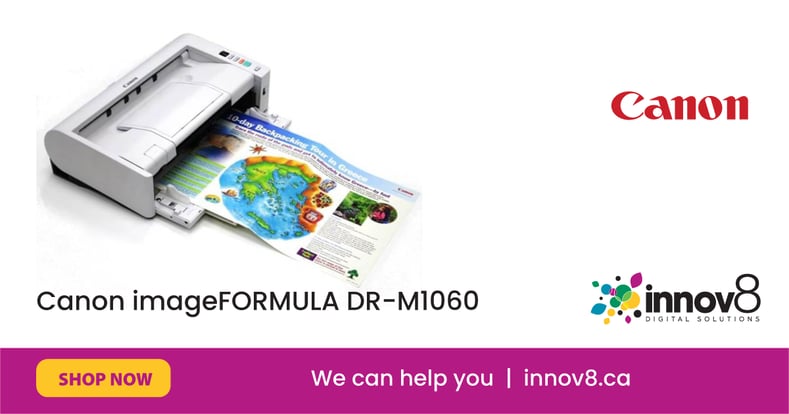 3. Canon Production Press
Designed to speed up the in-house production process, Canon imagePRESS digital production printers are necessary for all offices with a CRD. Featuring the latest technologies, production presses can help you with all your printing needs while saving on the costs on outsourcing.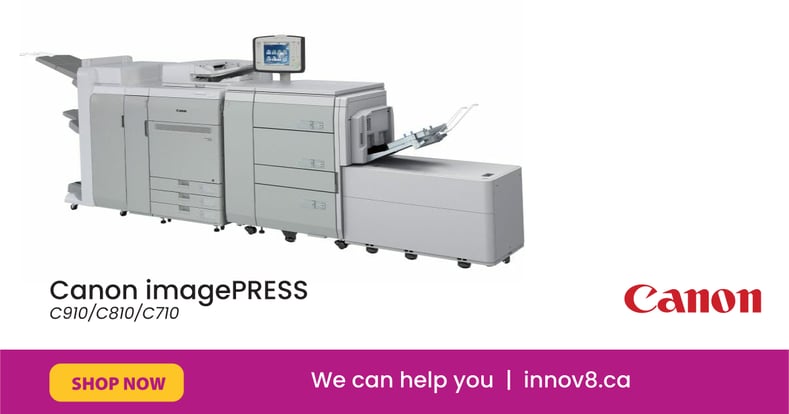 4. Canon Wide Format Printers
If your business needs include producing large format prints greater than the typical 11x17 paper sheets, canon-wide format printers are perfect to print up to 44 inches wide.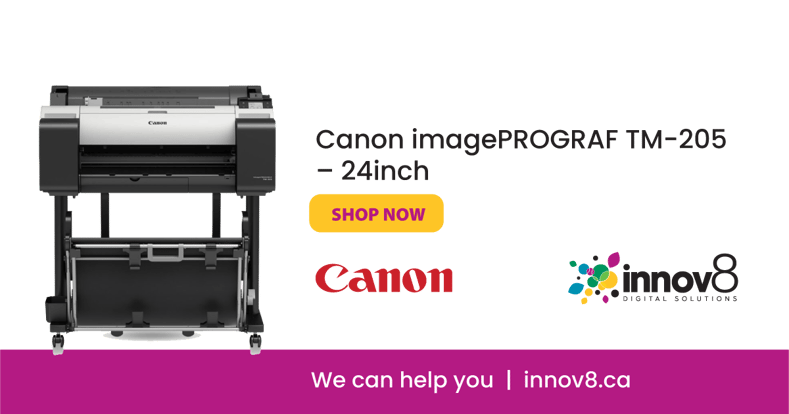 Go Green with the Canon Cartridge Return Program
When it comes to toner cartridges, going green isn't always easy. Nevertheless, Canon has you covered. In partnership with innov8 Digital Solutions, Canon has created a recycling program that helps reduce your carbon footprint and prevent waste from going into the landfill. Customers can now return their used toner cartridges to Canon for recycling through Canada post.
In addition to this, with innov8's print management solutions programs (MPS), the professionals will arrange office pick-up on empty and recyclable ink and toner cartridges, saving you mileage and travel expense. All you need to do is follow instructions for your products on the box's they come in. Next time you think about throwing away empty toner bottles, reach out to innov8 Digital Solutions and let us take care of the rest.
Do you need a Copier, Printer, Scanner or Multi-functional Device?
Technology can be overwhelming, but at innov8 Digital Solutions, we make it easy. Our team of experts will guide you through selecting the right equipment for your office, so you can focus on what matters and save time and money.
Did you know innov8 offers managed IT and print solutions for Canon devices?
Innov8 can help you reduce IT overheads, boost security, and receive enhanced printing and scanning solutions via UniFLOW online. Available for all Canon business devices, receive vital service operation information, along with:
Dashboard reporting

Secure document scanning

Confidential printing solutions

Scan, print, and copy tracking and accounting

Remote send capabilities

Remote printing from cloud storage services

Secure authentication and password storage
With nine offices between BC and Alberta, innov8 Digital Solutions can set up your business with the latest multi-functional devices by Canon, Lexmark, and Sharp. Never run out of ink and toner and ensure your office equipment stays up and running with our Managed Print Services.
We offer services around BC (Kelowna, West Kelowna, Vernon, Peachland, Osoyoos, Penticton, Castlegar, Nelson, Revelstoke, Lake Country, Salmon Arm, Victoria, Sidney, Nanaimo, Courtenay) and Alberta ( Calgary, Edmonton, Red Deer) .