Canon is one of the leading brands in the world, renowned for its high quality and durable products, especially printers. However, Canon—a Japanese multinational corporation—started as Precision Optical Industry Co. Ltd. and in 1934 produced Japan's first-ever 35 mm camera with a focal-plane-based shutter. The camera was named The Kwanon. In 1947 the company changed its name to Canon Camera Co., Inc, and in 1969 the name was shortened to what we know it as today, Canon Inc.
Most Canon printers come with special features to enhance their performance. However, even the best quality products will eventually be susceptible to wear and tear and will need parts replaced or fixed. With a Canon Certified Printer Technician, you know your device is in the best hands, being serviced as Canon intended, as opposed to by a generic printer technician that may not be as familiar with Canon products. In fact, we've identified five key reasons why your company would benefit from the expertise of a Canon Certified Printer Technician from innov8 Digital Solutions.
1. Canon Knowledge and Expertise
Our Canon Certified Printer Technicians have complete knowledge of and expertise with all major makes and models of Canon printers, Canon Office Machines, Canon Scanners and Canon Copiers, including the Canon imageRUNNER and Canon imagePRESS MFP printer models, ImagePROGRAF and Océ wide-format printer models, and ImageFORMULA scanners.
Our Canon technicians have the most up-to-date and modern tools to provide the best service in the industry, and we follow the Canon standards and technology to offer you the best quality on-site Canon printer repair services.
Our Canon Certified Printer Technicians can help with a wide range of printer challenges, such as:
Setting-up your Canon printer
Resolving printer driver issues
Fixing ongoing paper jams or problems with the paper feed
Investigating diminishing printing quality or print speed issues.
Resolving spooler problems
"Brandi provided 6 of us with training on our new Canon copiers the last week of August. She was very professional, yet easy-going and clearly explained all of the copier's features very well. As there were 6 of us, she was very patient in answering the many questions thrown at her."

- Charlene McMillan
2. Fast service
innov8 Digital Solutions is proud to be the only company in Kelowna, BC, to offer the services of Canon Certified Printer Technicians to our clients. With 7 locations throughout the province, you can rest assured that wherever you are located in BC, there is a Canon Certified Printer Technician that will respond quickly to your support needs, resulting in minimal downtime for your office!
3. innov8 is locally owned and operated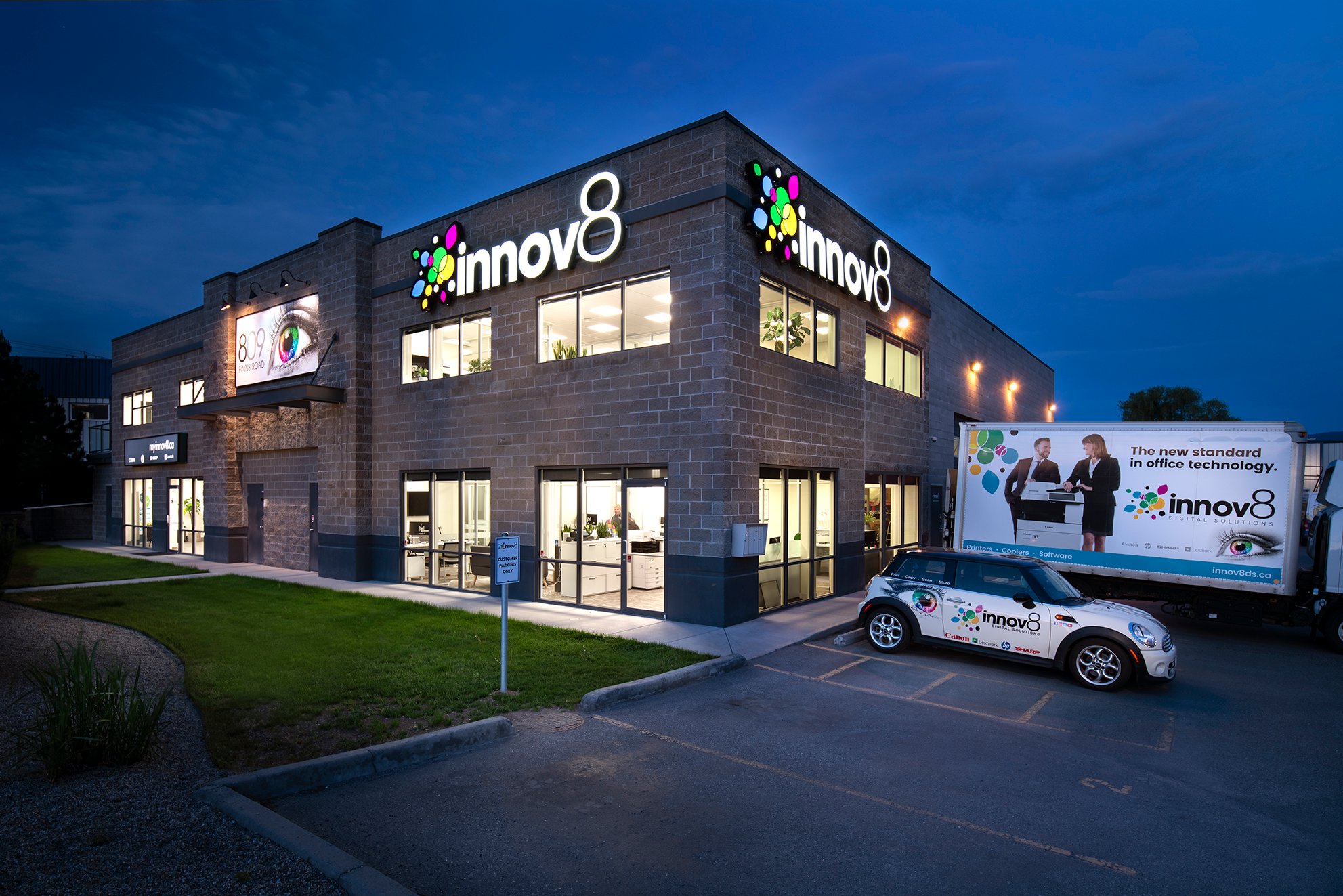 innov8 is BC's largest independently owned and operated office equipment organization, providing customers with access to the latest technology and skilled support, customizing recommendations supported by our local, professional staff. More than that, however, we are committed to fostering a strong, engaged local presence where we live and work. We know our customers have other options when it comes to their digital solutions, so we are passionate about supporting the communities and families that support us. Just last month, we raised and donated over $20,000 for BC Children's Hospital Foundation through holiday initiatives.
4. We provide enhanced customer service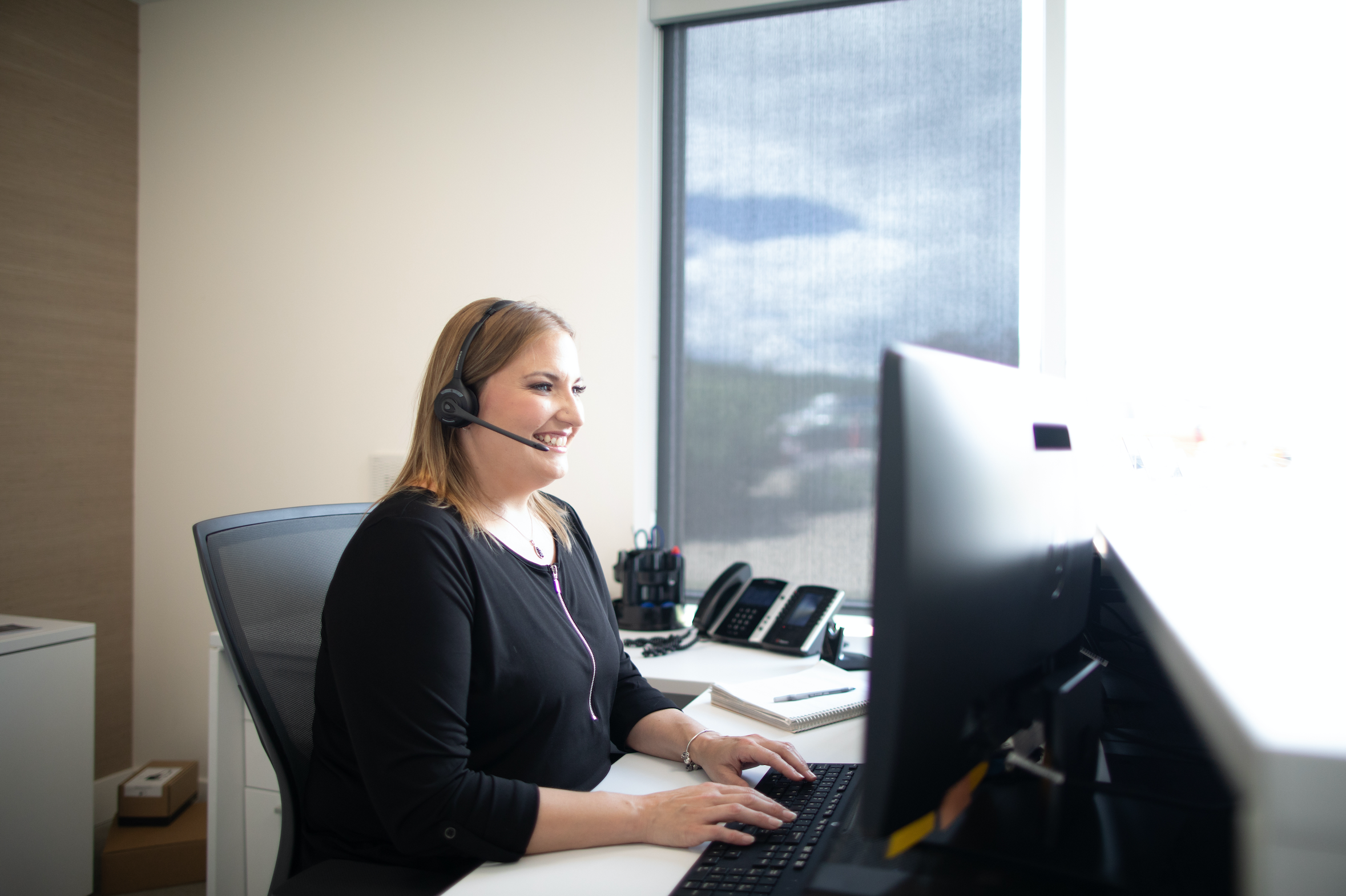 Our customers mean the world to us, and you can be sure that with Innov8 Digital Solutions on hand for your Canon service requirements, you will be dealing with a true service professional on every call, ensuring your overall experience will be second to none.
Have you heard about innov8's Managed Print Services? This service allows customers to monitor and control their business printing, saving money, while at the same time, decreasing environmental damage, and improving document security.
A common problem among mid-to-large size organizations is that they do not have a comprehensive inventory of where all their printers, scanners, copiers and MFPs are located, how often they are used, or how much they cost to operate. With our Managed Print Services, this will be taken care of to ensure the business is operating print equipment at maximum cost efficiency. At innov8, our approach to managed print services is strategic and innovative, and our service team consists of only the best-skilled service technicians.
On top of the service and maintenance of your machines, innov8's Managed Print Services includes delivery of ink and toner before you run out—determined by remote tracking of supply levels. It's an incredibly easy set-it-and-forget-it plan and is one of the most cost-effective means of managing printer services.
Learn more about innov8's Managed Print Services.
Open Door Group has 11 offices throughout BC and innov8 is proud to be their provincial enterprise printer supplier and operator. Joey Alain, Director of IT, describes the team at Innov8 as "prompt and can get us new products very quickly without getting stuck in paperwork.

The printers work great, and everything is taken care of."

According to Alain, Open Door Group relies on organizations like innov8 to support their small IT team, and they are "very happy with their products and services."
5. We will conduct a free office assessment
Did you know, printer usage and associated costs can make up 3-5% of a business's annual expenses? innov8 is an industry leader in office equipment and technology, and we are pleased to offer you a free Office Assessment. We will conduct an inventory of your existing equipment as well as your current printer, scanner, and copier usage, digging deep to find ways to reduce your printing costs and improve efficiency. We will then make recommendations for updates that will save you money in hard costs and lost productivity!
About innov8's Canon Certified Technician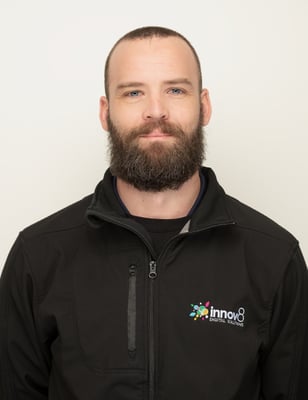 innov8 is all about providing the best customer experience possible both before and after any services or purchases. Superior technical support is critical and we welcome Heino Rheeder to our Technical Support team as a Canon Certified Technician. We did an exhaustive recruitment for a key individual with beyond typical technical qualification and we are elated to have found them in Heino.
Heino joins innov8 via Canon South Africa where he had the responsibility of being the head of National Technical Support and Technical Training for the full product line. Heino, his wife, and two young daughters have been overwhelmed by the friendliness and freedom Canada and the Okanagan provides. It is wonderful to see this though others eyes as we all too often take for granted our freedom and security.
Welcome Heino!
In Conclusion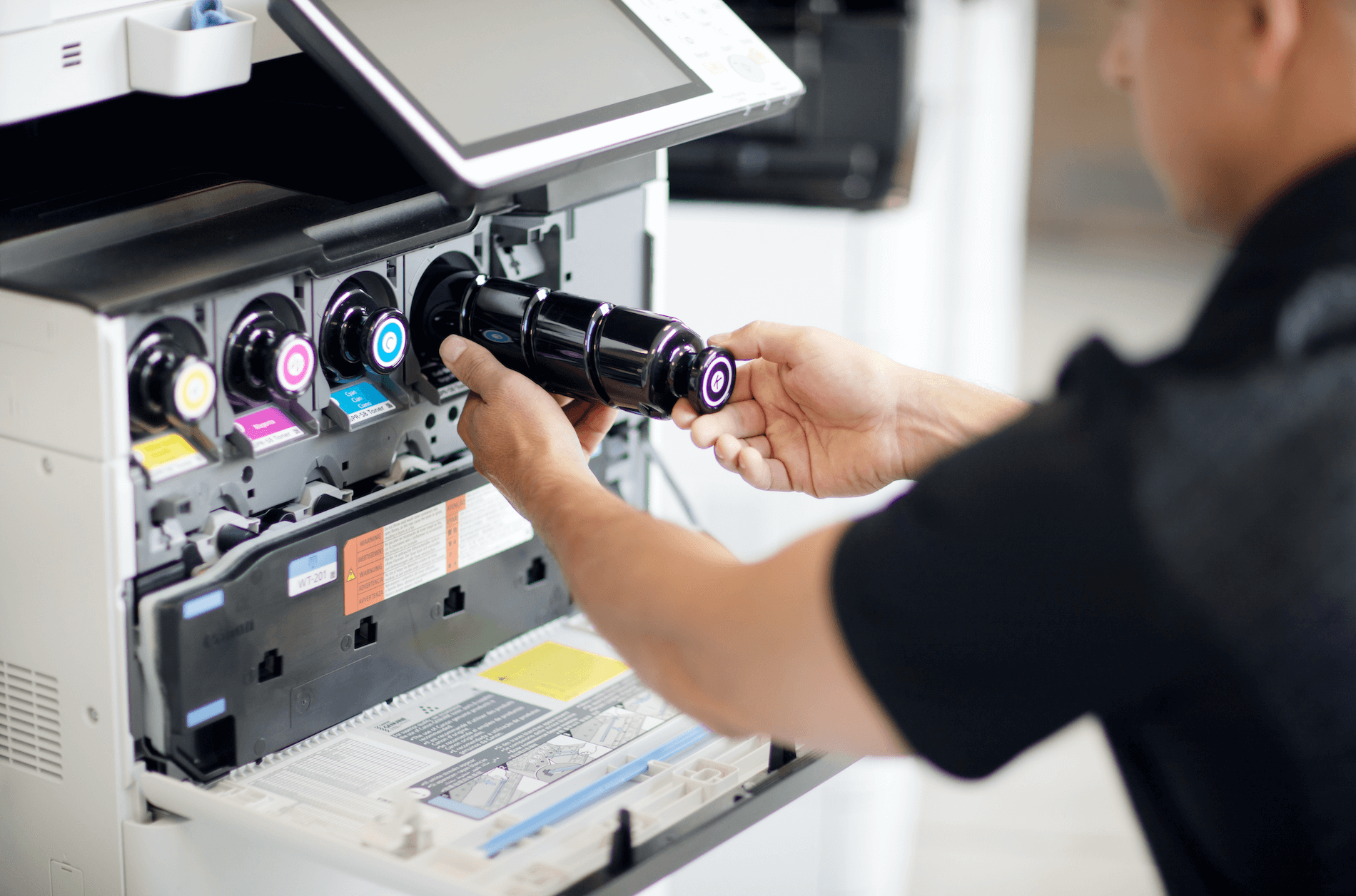 Canon Certified Printer Technicians are a must when it comes to servicing, maintaining and repairing your Canon office equipment. Armed with the Canon-specific expertise and experience to improve your product quickly and efficiently, innov8's technicians will ensure your down-time will be at a minimum. However, there's more to innov8 than our technicians. We are locally owned and operated, and providing exceptional customer service is a core pillar of our strategy, as evidenced by our range of service solutions to help your business save money while running at maximum productivity.
Let us show you how we can help your business. Get in touch for your free office assessment today!