Are you outsourcing much of your business' printing requirements?
You're not alone.
Many businesses in today's digital world, where advertising materials need to be rich in colour and graphics, find that standard printers aren't able to meet all of their printing needs, and much of their printing is outsourced to print shops, sometimes at great expense. Cost, however, is not the only concern. There can often be several weeks of lag time from sending off the final design to receiving the printed media, which can make planning—but also flexibility—difficult.
That's when having a wide format printer in house can be a huge advantage to businesses.
Wide-format—or large-format—printers are generally accepted to be any computer-controlled printer that is capable of printing on a maximum print roll width of between 18" and 100".
With a wide format printer in-house, businesses can end the inconvenience of outsourcing their printing needs and create stunning campaigns and visuals themselves, including:
Banners and posters
Business signs and directories
Wall art, graphics, coverings, stickers or murals
POP displays
Vehicle wraps
Trade show or exhibition graphics
Vending panels
Packaging
Point-of-purchase graphics
With virtually endless printing possibilities, wide format printers are an effective tool for promoting brand awareness, boosting product visibility, and aiding in company growth.
Due to misconceptions about the size and costs, many businesses look past sourcing their own wide format printer in favour of outsourcing their print needs to design firms. But depending on your company's objectives and print needs, adding a wide format printer to your in-house office equipment can provide a whole host of benefits, and might be an investment worth considering.
Faster turnaround with high production capacity. Wide format printers are known for their speed and efficiency, and today's models are also easy-to-use. With a wide format printer in-house you can print stunning high colour quality, high resolution images on a grand scale whenever you need to. No need to wait days or even weeks to receive your print jobs. If you are constantly finding yourself at the mercy of your print provider's schedule, in-house wide format printing might make sense.
Ability to print on a broad range of rigid or flexible media. Even more challenging media such as canvas, wood, tile, glass can be printed with some wide format printers.
Lower overall costs. While wide format printing is undoubtedly a big investment, a third party will charge you a higher cost for your printing needs than what you can achieve on your own. Therefore, if you have a significant amount of wide format printing needs, the cost savings will eventually pay for the initial cost of the printer and consumables.
Increased Security and Confidentiality. Outsourcing wide format print jobs requires you to give up control of your confidential documents and data and, depending on the nature of your business, this could be quite a risk. The chance for a potential security or confidentiality breach is only heightened when access to information is opened up.
Océ Wide Format Printers
Océ—an international leader in digital document management —is a Canon company, created to accelerate digital imaging technologies and develop high-tech printing products for every type of company from global multinationals to small-town creative studios. The four Océ flatbed wide format printer series are versatile and comprehensive, ensuring there is an Océ solution for every customer, no matter their production volumes and media requirements.
Below we explore the four Océ wide format printer series'(that are available at the time this article is being written) to help you determine which would be the best for your needs.
1. Océ Colorado Series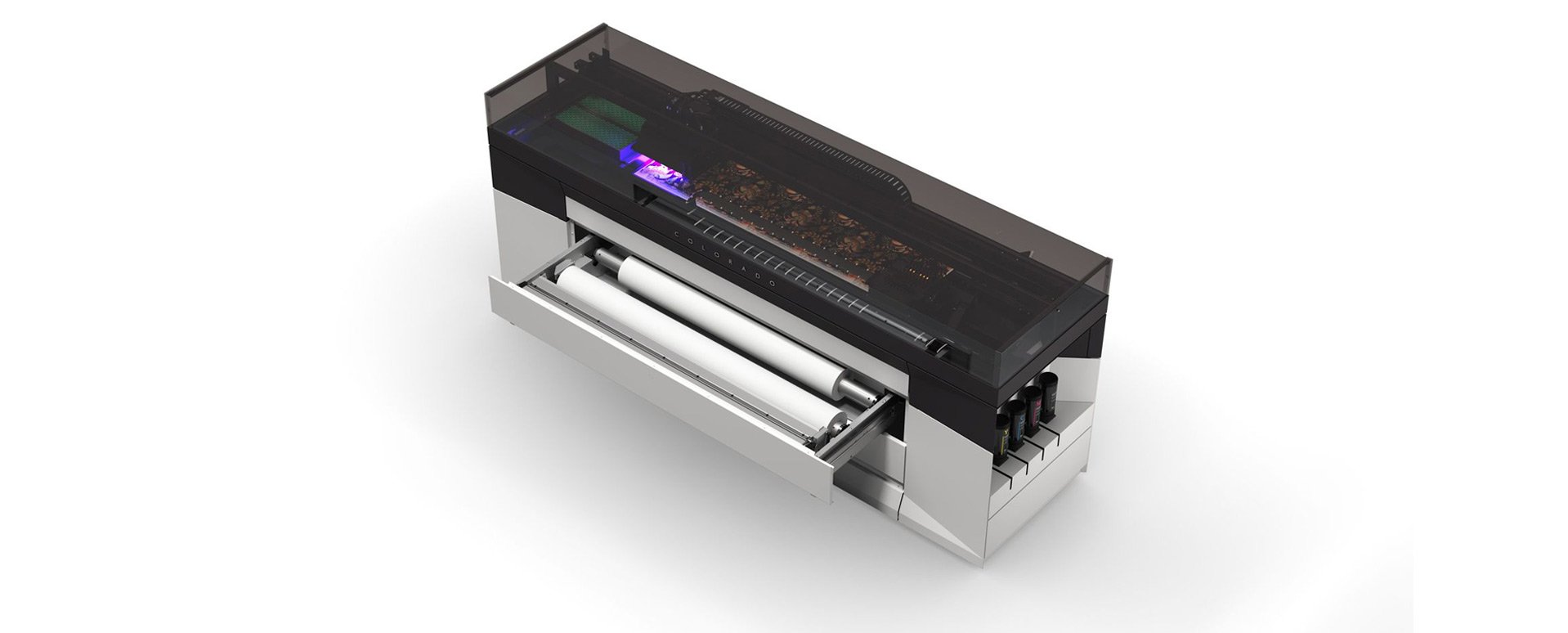 The Océ Colorado series—for large format roll-to-roll graphics printing—comes with UVgel technology that eliminates all of the disadvantages of the previous latex technology. The ink itself is in a gel form rather than liquid. UV LED lamps cure the ink at a low temperature on the media, 30 degrees, as opposed to the previous latex technology that required curing temperatures exceeding 80 degrees. As a result, there is better colour repeatability and print quality.
With the latex technology ink that was running out during printing was very visible on the printout, as were ink residues from a repeated need to remove and change ink cartridges on large print jobs.
The Océ Colorado 1650, the newest model to the series, comes with Océ FLXfinish technology — a new approach to LED curing where the user can choose between matte or gloss modes for each individual print without the need to change inks or media.
With this model of Océ wide format printer, companies can be more productive and cost-effective with their large format roll printing applications, producing more output in less time at a lower cost. The Océ Colorado series has a fast print speed of approximately 130 ft²//hour.
2. Océ Arizona Series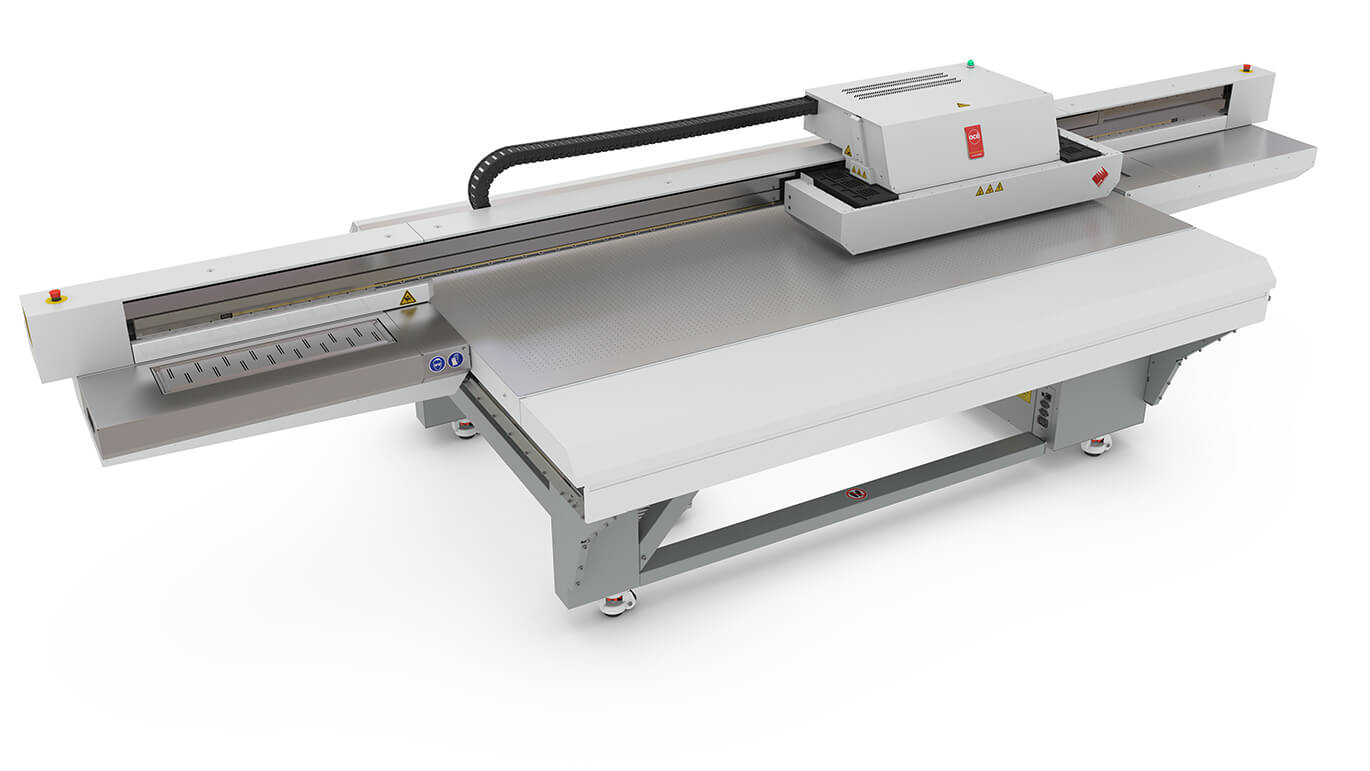 With its Arizona Series wide format flatbed printers, Océ aims to help customers maximize printer uptime and increase production efficiencies, offering printing speeds up to 1668 ft²/hr (Océ Arizona 6100 High Flow Vacuum Series). This printer series' versatility is outstanding — if a job can be printed digitally, it most likely can be produced on an Océ Arizona Series UV large format flatbed printer.
The Océ VariaDot® imaging technology of the Océ Arizona printers delivers near-photographic image quality, making this series of printer best-suited for large format, outdoor point-of-purchase signage and banners, second surface backlit displays, exhibit displays, architectural and directional signage, and event signage.
Océ Arizona Series printers are easy to use and reliable, providing full-bleed printing capability that eliminates the extra finishing steps of trimming prints, and the self-learning capability of the Océ Arizona Xpert software turns complex job setup into a quick, effective process. Set up your jobs, save the steps, and later apply to any similar jobs.
With models that accommodate printing onto rigid media up to 98" wide x 120" long and up to 2" thick, customers have a range of choice to suit their print production needs. For customers needing more flexibility, the Roll Media option provides the ability to print onto flexible media up to 87 inches wide, increasing customers' ability to do more with a single printer, do it faster and do it at a lower cost than was possible before.
In addition, the Arizona 1300 printers in this series feature an instant-on curing system (eliminating the wait time before you can start printing), and instant switching between roll-to-roll and flatbed printing — huge time saving additions. The Océ Arizona 1300 Series can also be used with the Océ Touchstone textured printing solution, allowing for the production of enhanced prints with textured effects.
3. Océ PlotWave Series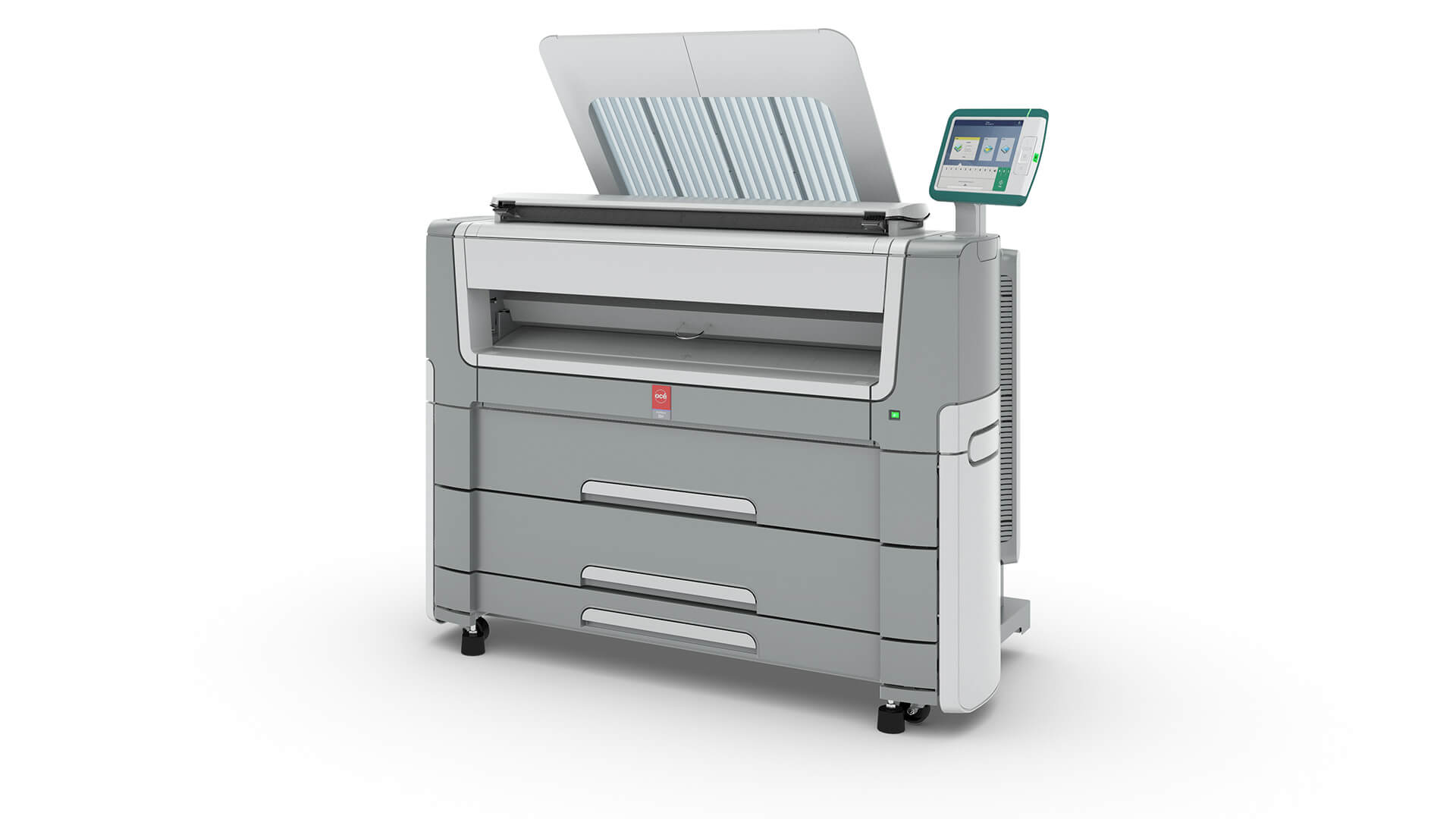 The sharp output of the monochrome large-format printers in the Océ PlotWave series, combined with exceptional long-term reliability and energy efficiency enables them to deliver consistently impressive large format document printing, plotting, scanning, copying and document management solutions.
There are several distinct advantages to this series of printers making them ideal for an office environment. The printers in the Océ PlotWave series:
Are quiet, requiring no noisy fans like conventional systems.
Use less power — they have the ENERGY STAR® designation.
Have low ozone emissions.
Generate less internal heat enabling them to last longer, and require less maintenance.
Have very little warm-up time, so they are ready to go when you are!
The Océ PlotWave 750 can produce 9 D-size prints per minute, even with mixed sizes. With up to 6 media rolls, the Océ Double Decker Stacker and built-in cutters, you can print and stack up to 3,444 feet of output without interruption.
The fastest machine in the series, the Océ PlotWave 900 has a maximum print speed of 43 feet per minute and can print from up to 6 rolls at consistent speed even when switching between different media sizes. The printer's tablet-like user panel provides real-time feedback on the status of the system and job progress.
With four machines in the Océ PlotWave series, there will undoubtedly be a PlotWave machine that can meet your business' large-format complex technical documents and drawings needs.
4. Océ ColorWave Series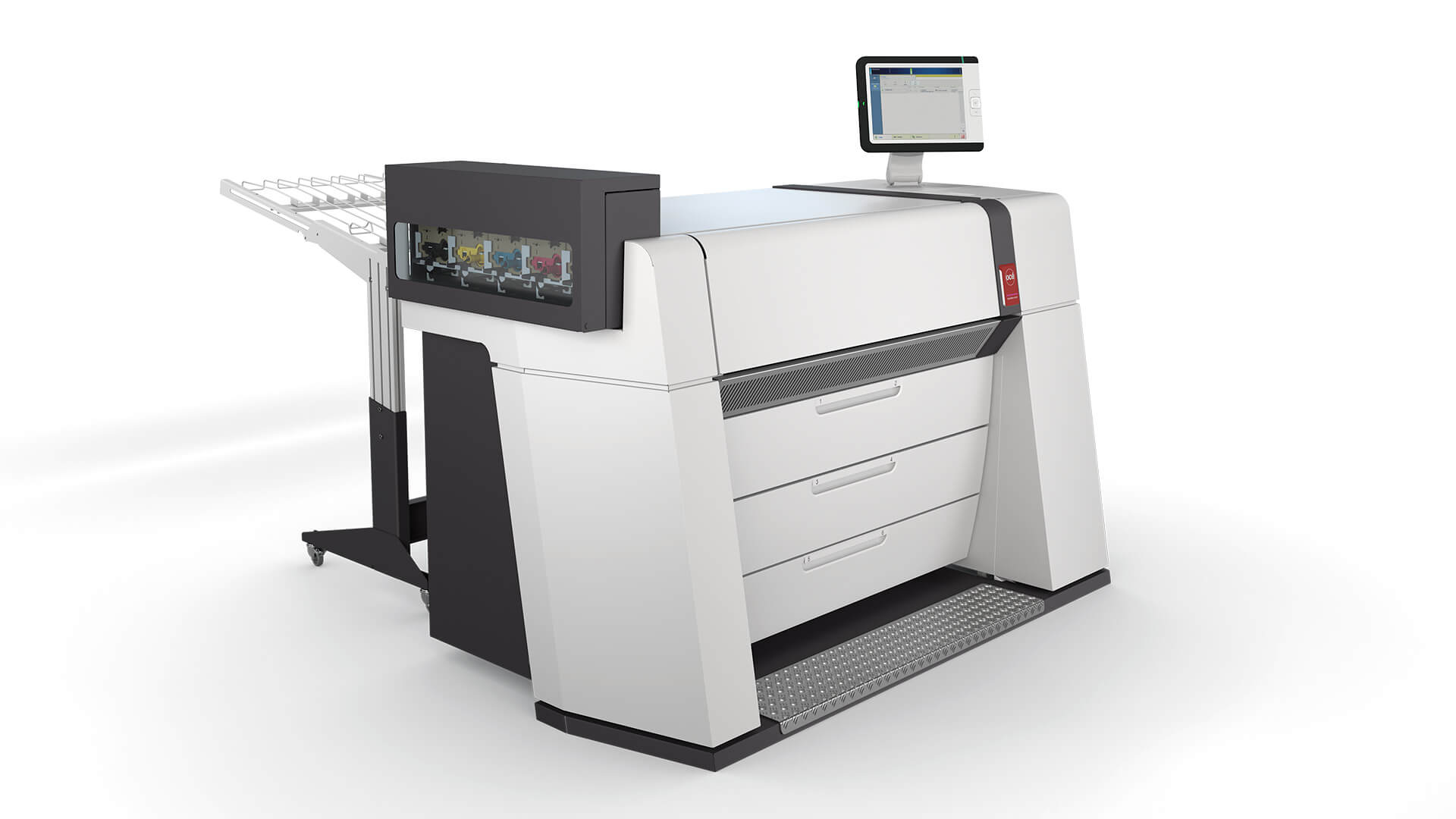 When the monochrome printing capabilities of the PlotWave series are not sufficient for your business needs, the Océ ColorWave series would be the next logical choice for a wide format all in one printer. The Océ ColorWave series is an easy-to-use, versatile solution, designed for the walk-up user. It gives customers the flexibility to print a wider range of applications, from technical documents, CAD drawings, sketches and black-and-white maps to interior colour graphics and short-term outdoor graphics as well as posters and street banners. This series of printers, therefore, is ideal for architects, engineers, for use in the Graphic Arts and Geographic Information Systems (GIS), and for general business users who require a fully-functional wide format colour printer.
The Océ ColorWave 3000 Series offers uncompromising quality in crisp, correct printouts using Océ CrystalPoint multi-pass print technology combining the best toner and best ink from the Océ TonerPearls range that are melted and combined as a gel that crystallizes on the media used. Developed entirely by Océ, it delivers high quality colour and black-and-white prints on plain and recycled paper, giving customers the opportunity to work with paper types that have lower costs without compromising on quality. It is also environmentally friendly, with no ozone emissions, minimal waste disposal, non-toxic and solid toner waste than can be disposed of as part of regular office waste, and no system contamination by powder or ink.
The Oce ColorWave 3000 series can print up to 368 square meters of posters every day in fast mode and has a media capacity of 4-6 rolls. Customers can automatically change print media for faster production.
The Océ ColorWave 9000 is an excellent combination of high quality, workflow, productivity and flexibility for higher-pressure print environments, where technical documents, CAD renderings and maps are the main type of output. The Océ ColorWave 9000 has been created to be an end-to-end solution, where speed from job submission to stacked or folded delivery is of the essence.
Which Wide Format Printer is Right For You?
There are numerous benefits to having an in-house wide format printer. Not only can it save you significant amounts of money in the long-run, it can also come with production efficiencies, and put you more in control of your printing output. It can, however, be overwhelming with the amount of choice available. That's where innov8 Digital Solutions can help. We are BC Interior and Vancouver Island's exclusive dealer for Océ wide format printer services. We will work with you to help diagnose which will be the best solution for your business. We can even monitor your ink and toner levels remotely and bring you new supplies as needed! How's that for customer service! We are also experts in servicing and maintaining your office equipment so that you can spend your time taking care of business. In fact, one of our clients saved $30,000 in their first year after switching to innov8 Digital Solutions!
Have a question or don't know where to begin? Give us a call! We're always happy to help you innov8.