It's Day 8 of our Frozen Holiday Giveaway where we have really got into the spirit of the Holidays with a whole host of unbelievable prizes to give away! We have now announced 8 of the 12 prizes already but there's still plenty of time to try your luck at winning! In fact, you have until December 13th at 12:00 AM PST to enter to win all prizes! If you win something you don't need, keep the spirit of the Holidays alive by donating it to a child or family spending the festive season at the BC Children's Hospital.
Day 8: Sharp Plasmacluster Ion Air Purifier
Do you suffer from dry skin, chapped lips, a persistent cough or allergies? You're in luck! We have the perfect Christmas gift for you—a high calibre ENERGY STAR® rated Sharp Plasmacluster Ion Air Purifier, best suited for medium-sized rooms up to 254 square feet. Valued at approximately $599, this is the ideal solution for allergy sufferers, asthmatics, pet owners, and smokers, and can capture even the smallest particles of pollen, dust, pet dander, and smoke. The patented Plasmacluster Ion technology uses sensors to constantly monitor the air quality in your room, adjusting for air purity and optimum humidity level. The ultra-quiet fan attacks impurities throughout the room, meaning the air you're breathing is cleaner with fewer germs, bacteria, mould, and fungus. In addition, when this unit is used in humidify mode it can help relieve congestion, cough and dry and swollen nasal passages, helping to keep you and your family more comfortable all year round.

We would like to thank Sharp for sponsoring this giveaway.
Enter Now
Check back here every day until December 12th to see the next prize giveaway—four more fantastic prizes are still waiting to be announced! Each prize will be available for entries from the day the prize is announced through to December 13th at 12:00 AM PST, so even if you can't check back every day, you can still enter to win all prizes.
Please refer to the contest page for more details.
Feeling Blessed this Holiday Season?
Why not donate to vote for our tree (#29) at the Festival of Trees at the Bay Centre in Victoria, BC? All donations help the BC Children's Hospital.
Please consider making a small donation. There are a few different ways to vote:
In-Person
Text "TREE029" to 45678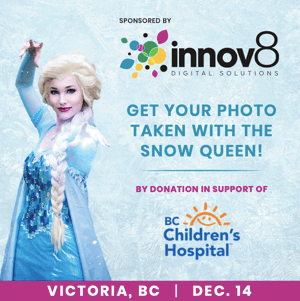 You can also come take your picture by donation with the snow queen herself at our winter scene December 14, 2019, from 12:00 - 3:00 PM PST.
Learn more about all the initiatives for the BC Children's Hospital currently happening on our Frozen Holiday Campaign page here.
FAQ
What You Should Know
What is the cut-off time and date? A: 12:00 AM PST on Friday, December 13th.
Do I need a Facebook, Instagram, or LinkedIn account to enter? And do I need to complete all entry options to win? A: No, you don't need to have all social media platforms or complete every single requirement to enter but every option that you complete will get you another entry.
What if I don't live in British Columbia? A: All Canadians are welcome, excluding Quebec. Unfortunately, in order for us to properly run these types of giveaways, we have to exclude some areas in order to comply with legal reasons for exclusions.
How will I know if I won? A: We will publicly announce the winner(s) for each prize on their respective blog post as well as list everyone on our holiday campaign landing page by 4:30 PM PST on Friday, December 13th. Please note we notify our winner(s) via the email they entered to enter the contest. Please ensure this email is valid and that you check it! You will only be given 72 hours to respond or we'll move onto another entrant.