In case you missed it, as part of innov8's Frozen Holiday Giveaway we are giving you the opportunity to win 12 prizes that are being announced daily from December 1st to 12th. We are over halfway through our prize announcements—but don't worry, you still have time to enter to win all the previously announced prizes as well as those still to come! Each prize will be available for entries from the day it is announced through to December 13th at 12:00 AM PST.
We've already announced two Frozen-themed prizes—a Frozen Ultimate Castle Playset and four Frozen II Figurines—and to continue with this popular theme, our next giveaway is:
Day 7: Frozen Enchanted Ice Vanity
Disney's Frozen 2 sees fan-favourites Elsa, Anna, Olaf, Kristoff, and Sven venture beyond Arendelle's gates to embark on an adventure that brings them closer together, changing their lives forever! Relive the epic story with Elsa's Enchanted Ice Vanity inspired by Elsa's magical ice powers! When the doors to the vanity are opened, Arendelle castle materializes in stunning lights! The Enchanted Ice Vanity replays moments from Elsa's remarkable journey in Frozen 2 accompanied by two iconic Frozen songs, keeping young fans of the movies entertained long after the final credits have rolled. Enter to win this impressive prize for a Frozen fan in your family, or for a child spending the holidays at the BC Children's Hospital.
Enter Now
Check back here every day until December 12th to see the next prize giveaway!
Please refer to the contest page for more details.
Vote for tree #29 in the Festival of Trees!
Did you know? You can vote for our tree (#29) at the Festival of Trees at the Bay Centre in Victoria, BC by making a small donation benefitting the BC Children's Hospital.
Please consider making a small donation. There are a few different ways to vote:
In-Person
Text "TREE029" to 45678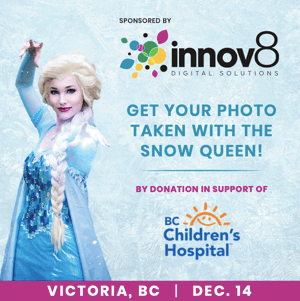 You can also come take your picture by donation with the snow queen herself at our winter scene December 14, 2019, from 12:00 - 3:00 PM PST.
Learn more about all the initiatives for the BC Children's Hospital currently happening on our Frozen Holiday Campaign page here.
FAQ
What You Should Know
What is the cut-off time and date? A: 12:00 AM PST on Friday, December 13th.
Do I need a Facebook, Instagram, or LinkedIn account to enter? And do I need to complete all entry options to win? A: No, you don't need to have all social media platforms or complete every single requirement to enter but every option that you complete will get you another entry.
What if I don't live in British Columbia? A: All Canadians are welcome, excluding Quebec. Unfortunately, in order for us to properly run these types of giveaways, we have to exclude some areas in order to comply with legal reasons for exclusions.
How will I know if I won? A: We will publicly announce the winner(s) for each prize on their respective blog post as well as list everyone on our holiday campaign landing page by 4:30 PM PST on Friday, December 13th. Please note we notify our winner(s) via the email they entered to enter the contest. Please ensure this email is valid and that you check it! You will only be given 72 hours to respond or we'll move onto another entrant.